Since 2018, while I was a guest of Ong and Maureen at ComPeung artist residency in Doi Saiket, northern Thailand, I started working on the editing and translation into Italian of what has now become Attitudine Riottosa.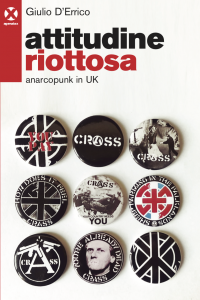 Giulio D'Errico (ed.), Attitudine Riottosa. Anarcopunk in UK (Milan: AgenziaX, 2020) Moicana series
The book is an Italian-language collection of articles, memories and short stories on British anarchopunk in the nineteen eighties, written by those who were there. The book includes writings by Russ Bestley, Greg Bull, Justine Butler, Rich Cross, Mike Dines, The Free Association, Alastair 'Gords' Gordon, Matt Grimes, Alistair Livingstone, Chris Low, Willie Rissy, Francis Stewart and Peter Webb, which were previously included in:
* The Aesthetic of Our Anger. Anarcho-punk, Politics and Music, edited by Mike Dines & Matthew Worley (Autonomedia, 2014)
* Tales from the Punkside, edited by Mike Dines & Greg Bull (Itchy monkey press, 2014)
* Not Just Bits of Paper, edited by Greg Bull & Mickey Penguin (Perdam Babylonis Nomen Publications/Situation Press, 2015)
* Some of us Scream, Some of us Shout, edited by Greg Bull & Mike Dines (Itchy monkey press, 2016)
A big thanks goes to all the authors of the chapters included in this collection, to the authors of the chapters I could not include, to all the editors of the books I used, to Stevphen Shukaitis of Autonomedia, and especially to Russ Bestley, Greg Bull, Mike Dines, Nicola Del Corno, Marco Philopat e Fabio Vercilli – your support have been invaluable and essential to this book. A special thought goes to Alistair Livingstone, who passed away before the publication of this book.
ABOUT THE BOOK: interviews and reviews in English